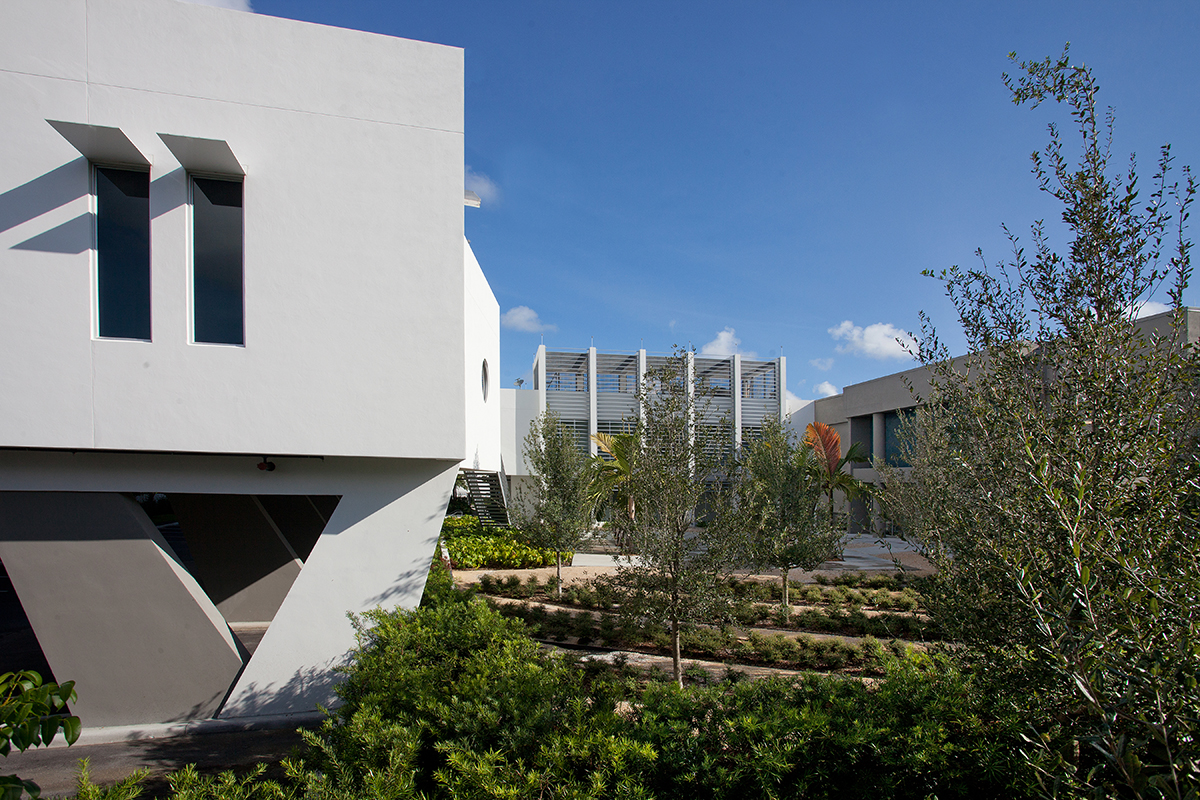 Columbus Networks US Headquarters
Rather than simply adding floor area to accommodate growth, the design strategy looped program components around considered open space.
Columbus Networks US Headquarters
Sense of enclosure: The new courtyard was conceptualized to serve as an everyday contemplative area for employees as well as a special event space. It is defined by a loop of interconnected structures, including a louvered connector building that attaches to the warehouse volume behind. The landscaped patio feels sheltered, yet expansive.
Using nature to define spaces: The 1.94 acre site, once devoted mainly to parking, has been progressively colonized with new structures and useable outdoor courts and patios.
Columbus Networks US Headquarters
Transparency and visual connectivity among the buildings is balanced with a need for security and impermeability.
Columbus Networks US Headquarters
Landscaping creates a layer of green, buffering cars from the courtyard.
Columbus Networks US Headquarters
Maximizing function without sacrificing form: A new technical/ engineering wing was built over parking that could not be forfeited. The building's structural system braces the asymmetrically over the parking spaces.
Columbus Networks US Headquarters
In addition to significant new construction, the architect reused most of the existing structure. The facility needed to seem solid, yet forward-thinking.
Drama on the street facing façade was created using recessed lighting. Monumental columns on the face were echoed by a forest of industrial grade cardboard tubes (seen at right) that divides the lobby from the employee cafeteria
Columbus Networks US Headquarters
The existing structure was originally built in 1972 for Florida Power & Light.
Columbus Networks US Headquarters
Circulation paths through the building use tempered glass to reveal all aspects of network operations, handling ARCOS servers on one side, and colocation equipment on the other.
Columbus Networks US Headquarters
Neve center: The NOC, or Network Operations Center, is a highly specialized space and the most crucial node in the loop. The company's entire international cable network is monitored from this room 24/7. Rows of workstations are wrapped by a ribbon of wood that extends out over and through to the offices beyond.
Columbus Networks US Headquarters
Work stations for technical staff are aligned in a narrow, yet generously proportioned bar building. Private offices are slotted into one side of the structure; the other side comprises a wall of windows allowing natural light to flood the working areas.